Hat's off to the organizer's of the 2017 Renfro Valley Dual Sport once again! I've only done this three years now, and each time, I've been amazed at how well they mark the route. If you pay attention, you could probably do the whole thing without a roll chart. It's marked that well. The sign-up process is a breeze and flows quite smoothly. Make sure to get it on your calendar when they announce the 2018 dates. Typically, it is held the first weekend in May.
Day 1
I'd been talking up the dual sport all year long with some guys I normally ride with. Some had never done it before, and others hadn't done it for many years. I was actually kinda worried that the group would be too big, but it all worked out just fine. In the end, there were five of us riding together on Saturday. Greg, Bo, Kyle, Travis and I all headed out on the route just before 9am. Ideally, 8:45am would have been a bit better but this crew is fairly quick and I didn't expect us to have to wait very long on anyone.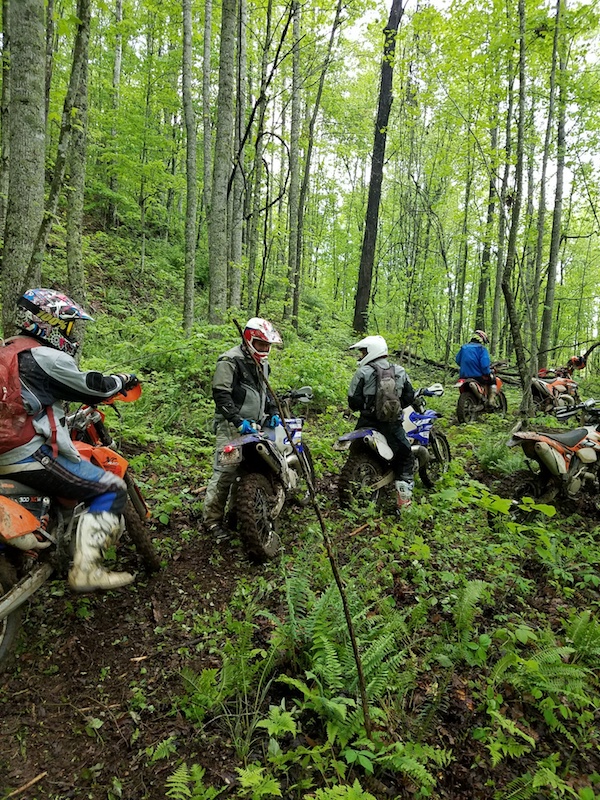 Just like in 2016, there was a fairly strong possibility of rain on Saturday. Argh! I've never ridden the event when it was even somewhat dry. Well the forecast gods made a good call as it started coming down about an hour or so into the route. Luckily, I'd suited up in my Klim Traverse jacket with the d3o pads in the shoulders and elbows. This setup over my regular riding layers was the ticket. The vent zippers on the Traverse made it easy adjust to the conditions they changed throughout the day.
We'd hit all of the Green Arrow (Hero) sections that morning and folks were getting stuck all over the place. None of the crew had any issues with the hills or ruts and we tractored up, over, and around everyone and made good time as well. About 3 miles from lunch, we came out onto a paved road. It was in the mid-40's, pouring down rain, and we were all ready for some shelter and food. Especially Bo. Evidently he was in dire need of nourishment. Everyone was in much better spirits after a good lunch and some "so-so" hot coffee.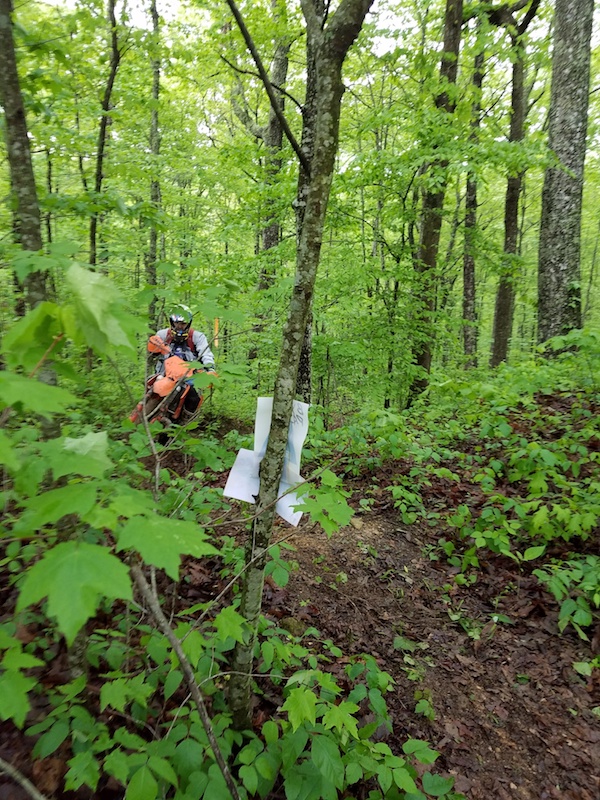 They had gas for sale at the Sand Gap Community Center where we had lunch for $4/gallon. A bit steep in price, but it meant you didn't have to head over to the store and wait in line behind 50 bikes to get gas. The guys on smokers mixed their gas accordingly and shook it up in the supplied milk jugs. I'll do that again next year!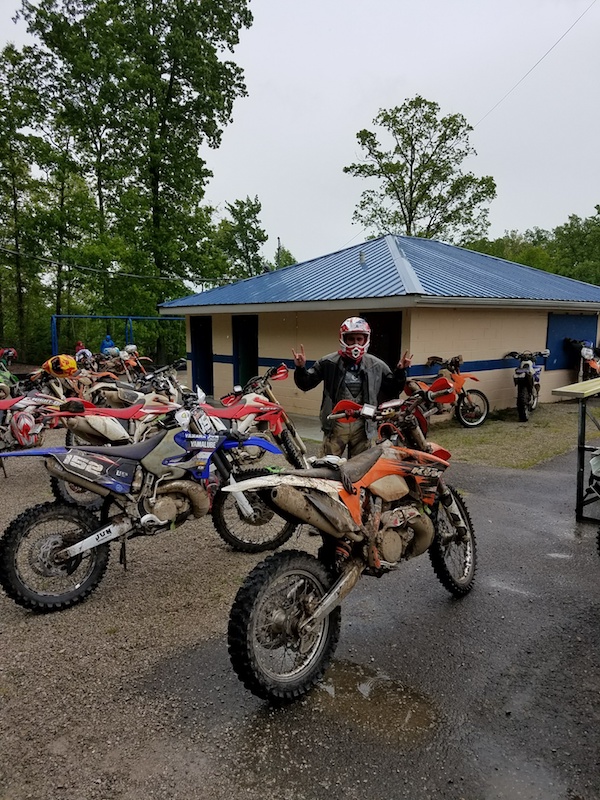 The rain was subsiding a bit as we pulled out for the second half of the day. There was some great riding ahead but it was going to be wet and sloppy for sure. Trail conditions were deteriorating quickly as the crew moved forward. Some sections had water running down the ruts in the trails. When we got to the 2nd afternoon Hero section, Greg indicated that the potato salad at lunch was not working out very well. I think he was getting a little green. Not good, as we had over 40 miles left to go. He and Bo skipped that Hero section and promised to meet us at the junction.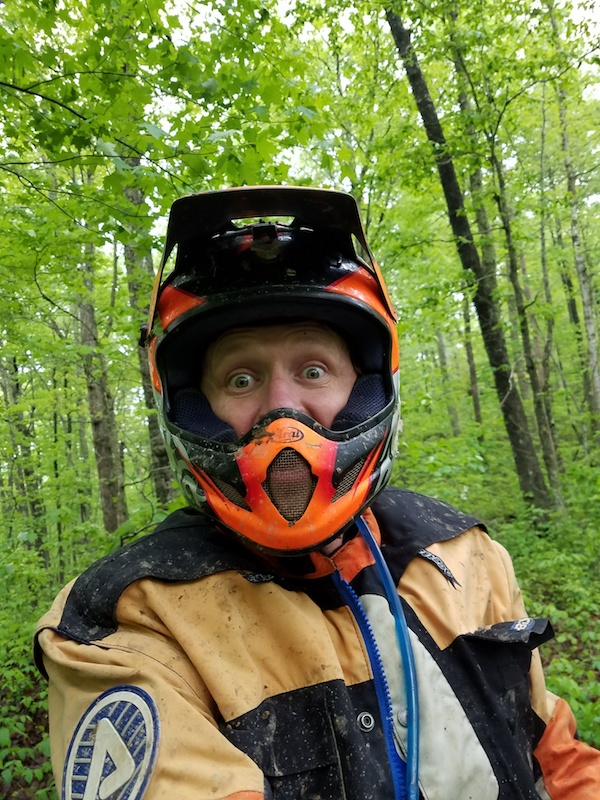 In the end, Bo and Greg had to wait over 30 minutes for us. It was not good. This was the only section where I had to hit a hill twice. Travis, Kyle and I were challenged for sure! Tiring to say the least. Things were just plain sloppy and it was hard to keep forward motion at times. For the first time ever, my "WR250" got a little warm. I never remember this happening to the bike before. We stopped for about 4-5 minutes so it could cool off. Not good. Bo and Greg had made a good call not running that section.
The next Hero section was the cool stuff at Big Hill. I rode that last year (in the rain) and it was OK, but this year it was wetter. Kyle was pumped to try it so we let him head his own way. I knew of one really steep downhill that I just wasn't willing to tackle in these conditions. It just wasn't wise, at least not for me. At this point we were less than 30 miles from the staging area and the rain was still coming down but you could see the clearing skies in the distance.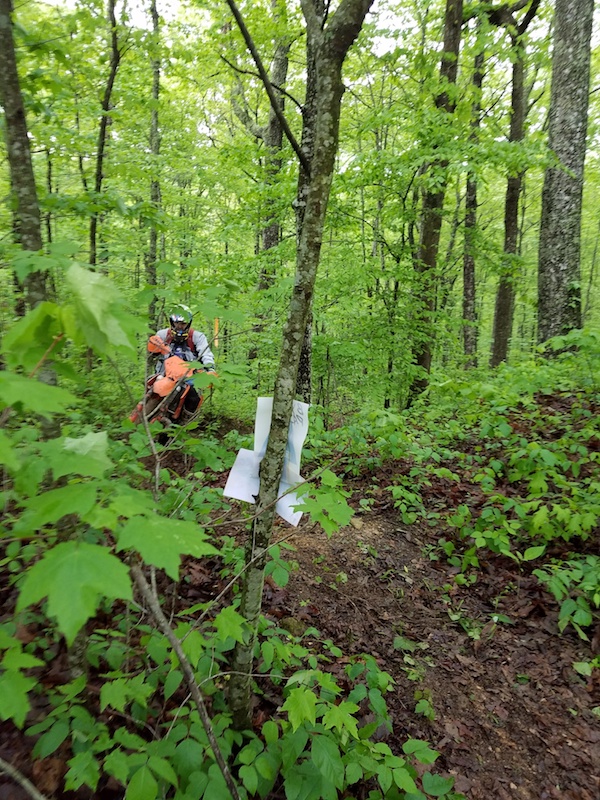 In a short while, we popped out onto the pavement and there was no precipitation. Excellent! A combination of pavement, gravel, quad trails, and jeep roads lead us to the final section of cool single track. Very, very nice to say the least. A wonderful way to wrap up the day. It flowed well and now that it wasn't pouring, it was actually enjoyable! We came off the single track and dropped onto an old road that descended down a creek bed back to the final section of pavement. I'd say 4 miles later, and we were back at the staging area. It was nice to start loading up without the rain as an annoyance. Special thanks to Greg for being our leader for the day. I greatly appreciated not having to ride in the front for a change.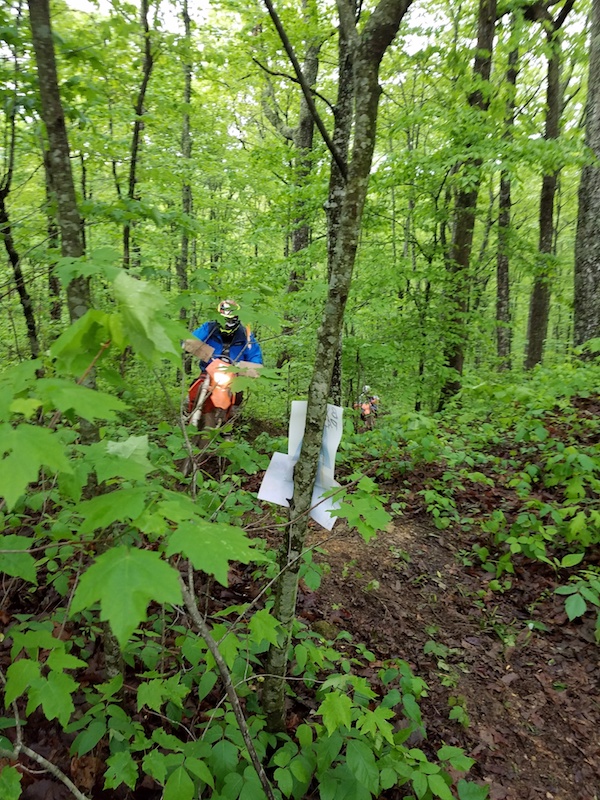 Bo, Kyle and Travis had other obligations so they headed back north. Charlie came by and said his shoulders were hammered from fighting the little Husky he was riding so he pointed his van northward to Indy. With the mass exodus underway, the plan was to seek out Jeff and John and see if we could tag along on Sunday.
Greg and I stayed for the evening. We got a good meal there in Mt. Vernon and went to our hotels to get some rest and recover for the following day. The forecast for Sunday promised to be awesome, cool in the morning with a high around 61 degrees and plenty of sunshine. Good deal!
Day 2
Onward! Woke up to a light coating of frost on Sunday morning with clear skies. Things were damp, no doubt about it, but at least the sun was shining. I met Greg at the staging area around 7:30am. He'd had a rough time with leg cramps that evening and throughout the night. I've dealt with that before and it is not fun. Makes me cringe to just think about it. Wisely, he headed north as well, not wanting to chance getting 40 miles in and have to deal with the leg cramps. Plus, he had a 5+ hour drive ahead of him. Smart decision.
So I got in touch with Jeff and John and they were fine with me tagging along. Their friend Justin was there too. He was a good rider for someone that had only been on a bike for 3 seasons. Being young and tough benefited him as well. He kept up a good pace and dealt with most obstacles very well.
John pulled up in his Sprinter beside the MotoVan and everyone got their gear on and bikes ready. A group of four is a good size for this type of outing. The first part of the day was a bit too much pavement for me but as soon as we turned onto some natural terrain I got really interested. The lack of precipitation made it much easier to take in the surroundings. Mountain laurel were in full bloom and the  ferns were popping out of the forest floor. Sandstone rocks and the associate reddish dirt were prevalent at certain elevations on the route. Neat stuff!
Unfortunately we encountered lots of bottlenecks on the route that morning. Some of the more challenging hills were making it tough on many of the riders. Luckily, our little crew was able to get around these sections with little effort and kept a great pace.
There was one particular Hero section that I really enjoyed. It traversed a hillside with sandstone cliffs towering on the ridge above. Evidently, this is part of the "Sand Springs" area where Travis rides frequently. Jeff said that he'd ridden there with Travis the year before. Some of that section had burned last fall and that made it easy to see through the trees. The steep hills and off-camber trail layout made it fun to navigate.
Just before lunch we went under I-75 and ended up in "downtown" Livingston, Kentucky at the local fire station. They were grilling hot dogs and hamburgers and had all the fixins' laid out to embellish them accordingly. Just like, Saturday, the fire fighters had gas available for purchase, but this time for $3 per gallon. Good deal. We all gassed up after eating and headed back out for some more fun.
We saw a couple groups that were bypassing the main route and taking the road back to the staging area. Boy they really missed some awesome riding. The Hero sections after lunch on Sunday were some of the best we encountered all weekend. So glad I stayed for Sunday this year!
My favorite landscape feature of the whole event was a sandstone outcropping that had eroded into a series of passages that were 30′-50′ deep. As we approach this area, I noted what looked like pea gravel on the trail. My first thought was, "How in the world did they haul this pea gravel into here?" Hmmmm. When the sandstone became visible you could literally see the little pieces of gravel embedded in the geologic structure. These little pieces had eroded away and washed down the hillside, thus the appearance that someone had spread the gravel on the trail.
Not too far on down the trail from the sandstone outcroppings we came upon an overlook. It wasn't a natural overlook, but rather a sheer drop off into what was an old mine. You could see the large shafts from the edge and the old railway that serviced the mine many years ago.
When we reached the end of that trail and hit the gravel road, Jeff turned right off the route and we headed down to the mine shaft entrances. There you could see 3-shafts and it was then obvious that the railway actually went through the mountain via a tunnel that we'd just ridden over a few minutes beforehand. Justin and I followed Jeff and John into the mine shafts. Kinda eery.
I didn't think about it at the time, but what if the vibration caused by our bike engines had made pieces of the roof come down? Not good. I might not go in there again. I'll just wait outside and take pictures!
The route had one more Hero section and then some old road beds, quad trail, gravel and so forth before the end of day. We saw a dual set of train tunnels a few miles before the end and actually road down the gravel beside a railroad bed for about 1/2 mile. The sun was still shining, everyone's bikes were in good working order, and no one got injured! A great way to end the day.
If it isn't obvious, this is now permanently on my "To Do" riding list for every year. I certainly wished that I knew about this event many years ago. I recall folks not coming to KORHS races because they didn't want to miss the dual sport. Now I understand! Don't miss it next year!
See you on the trail!