I had the opportunity to ride with three great guys this past weekend. It is interesting how the family of off road riders is intertwined. Through a random set of associations, Michael contacted me about riding in Kentucky. I'd hinted that waiting until later in the Fall would be ideal as the place was really grown up and there were lots of trees down from the Spring storms. So that was the plan, wait until October or maybe after a frost.
However, he and his riding partners had some plans fall through and wanted to know if this past weekend (8-29-15) would work. Sure! But I reminded Michael about how grown up things would be, especially the blackberry briars. They are long, strong, and brutal this time of year. I'd planned on clearing trail all weekend so it was fine with me. They could help me beat down the vegetation that is engulfing the landscape.
They were in route by late afternoon on Friday and planned to stay in Jamie's Bus at the Wal-Mart in Danville. Yes, he has a red International school bus that has been converted into a toy hauler (see photo above). Ryan was on his way from West Virginia whereas Michael and Jamie were coming down from the Indy area. I met them at about 7:30 am in Danville on Saturday and we headed south and parked in the back staging area under the massive oak that dominates the field (see photo above).
Since they were driving a great distance, I had to make sure their trip was worthwhile. I wanted to include some loops with the best single track but I knew that many included sections that were grown over with tall weeds and briars. Oh well, that was the only way it was going to work and like I mentioned before, it gave us a good first pass  at beating it down with 4 riders coming through. The bad part about this plan . . . I was the one that would be riding in the front . . . the whole time. Argh!
As anyone that frequents the woods in Kentucky this time of year knows, there are spider webs everywhere, especially earlier in the day. I'm not particularly fond of spiders but if I have all my gear on I can plough through some webs. I just don't like to see a spider crawling around on my goggles. Distracting at the very least. Look at all the webs on my brake line below. My helmet looks even worse.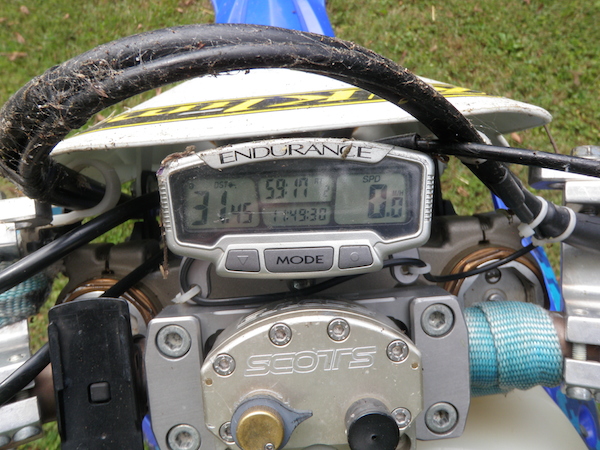 The crew took off and hit a part of the old course that I hadn't ridden since late winter. About 1/4 mile in we came to a downed tree and had to duck out through the brush and up to the field to get around. Unfortunately, we had to do that several times throughout the day. I told Jesse, there were several places we'd need his big saw. Regardless, we were able to quickly get around, up, over or under most things but turning around was the only option in a couple instances.
In one case, the alternate route was definitely the coolest. We dropped off an established trail that was blocked by a massive downed tree onto some very old single track that hadn't been ridden in at least 3 years. There were lots of face slappers but we made it through and dropped into this deep black shale drainage feature. A little shale waterfall is situated above our point of entry and from there it runs down and around a very slick corner and into a tall bank. I looked back and Jamie was "surfing" around that corner with only the slightest control of his bike! He pulled it off quite well though and came to a safe stop. Michael paused for a photo-op with his KTM 200 propped against the bank (see photo below).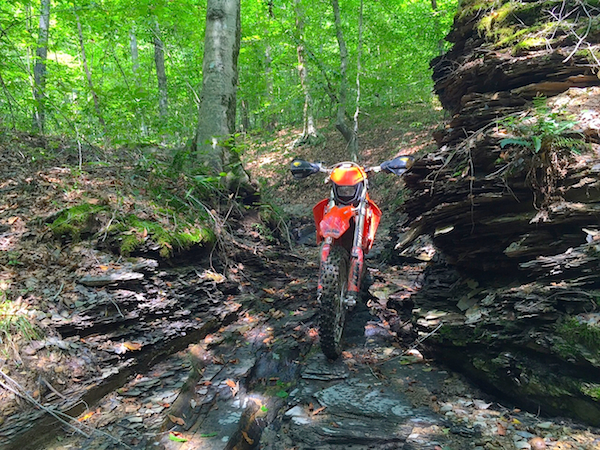 I told them there were some nice elevation change on this property and several times we were able to navigate trails that went from one extreme to the other. We hit Cat Cave Hill, the Goat Trail, came down and off the recently cleared Pencil Ridge, and took our first break at the overlook that is at least two hundred feet above the Green River Valley. As with everywhere else in the woods, the vegetation was obscuring the best views but you could still tell it was a long way down to the valley (see photo below).
The riding was going well and there was 13+ miles of some great trail behind us before it was time to take a break for lunch. Michael and Ryan ran into town to Subway and Jamie stayed behind to re-jet his Husky (Nick Fahringer's 2014 race bike) as he'd not done it since returning from out West. My "good bike" was pinging (lean) too so I got my other one out of the trailer, pulled the chainsaw mount off, and strapped on a front headlight assembly. I'd ridden it the past three weekends since re-jetting from Idaho and it was doing fine.
After lunch we went to the "new" side of the property where it is really, really grown up with briars and massively tall weeds. You can slowly move through the stuff and knock down the weeds but the briars love to latch on. I'll have to say, the most awesome jersey for this type of "thrasher" riding is the Klim Dakar Pro. It is truly like wearing armor. That jersey with a wicking under shirt as a bottom layer and you're set for pushing through the nasty stuff.
At this point it is getting warmer and the vegetation is very thick but we push on. Just like all day long, I'm leading the crew and taking the initial hit. The branches, leaves, briars, weeds, and spider webs were a challenge in most all places unless we'd cleared it within the past three weeks. I reminded them, that I was riding in the front and taking the brunt of it on their behalf!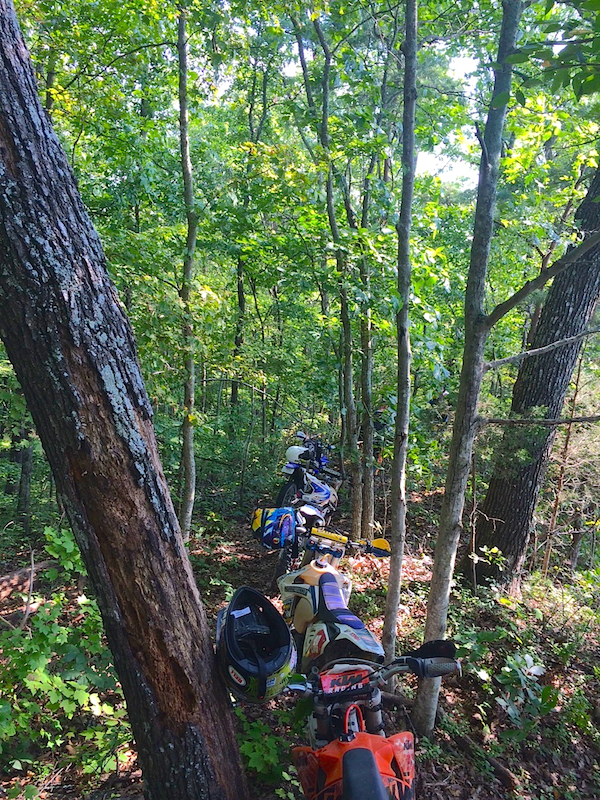 We started off the afternoon by dropping onto the cool switchback trail that works its way down the north slope of Moore's Branch ridge. Jesse did a great job scoping out this trail over the winter. It is really shady, covered with small rocks, and blanketed with massive ferns this time of year. The trail ends at the banks of Moore's Branch and wiggles through some tight trees and up the creek bed a bit. This whole area is still a work in progress but I was able to give the group a good sampling of the landscape and what we have to work with.
The rest of day included pieces of the old KORHS course(s) and as much pure single track as I could weave into the loop. In the end, I only missed a few trails that were nice to ride, but they can "experience" those sections next time they venture down to Kentucky for some riding.
I checked my odometer as we rolled back into the staging area and noted we had 31.45 miles logged for the day.  That is not bad when you consider the size of the area we have access to for our adventures. It is the generosity of a few families that allows us to develop a nice trail system. Special thanks to them!
It was around 3:30pm, my bike and I were covered with spider webs, my nose was cut, I was itching all over, and drenched in sweat. Felt like an appropriate time to call it a day, especially since these guys were heading up to Louisville to ride mountain bikes in the Mega Caverns on Sunday. Everyone was tired, but no one was injured and all of our bikes were intact. Success!
It was certainly a good time and I always enjoy taking folks on a little tour of the Kentucky woods. When you're the host, riding in the front is always a necessity but in last weekend's conditions, it was certainly a challenge. I now have a nice mixture of bites from chiggers and deer tick larvae to remind me of our little adventure. I sure hope they enjoyed the trails. I did!
See you on the trail!