It was about this time last year when we decided to get either a 3/4-ton Diesel truck or a Sprinter. I didn't know much about them then, but by September we were test driving one and by October a brand new 4×4 Sprinter was in our driveway.
One of the primary reasons for the Sprinter purchase is that it really suited our type of traveling. It secures the load (motorcycles and sewing machines), it is NOT a trailer (which I hate to tow), and it is one awesome and comfortable ride! Our recent westward trip confirmed all of this and taught us several things about the van.
I am honestly surprised at how comfortable the Sprinter is from a driving perspective. The seating position is great for long periods of time, it has every adjustment you can imagine, and the seat foam is firm but comfortable and provides excellent support. Power seats would be nice but the adjustability is still there.
Seems like so many folks get a Sprinter and immediately get upset at how it rides. Well think about it . . . it was designed to have a load. One motorcycle and associated riding gear makes a noticeable difference but having a full traveling load makes it ride like a dream! Once again I was pleasantly surprised with this big monster and how it behaved on the interstate. Cruising along at 75mph to 80mph was not a problem and the steep inclines were clobbered by the little turbo-charged V6. It would just pull and pull with no abandon!
Kim learned that it was easy to just stand up and walk to the back and sit on that bench seat. She could stretch out, get something from the cooler, our luggage or just enjoy a different view with no great effort. The spaciousness is second to none! Something about the additional space that makes traveling less tiring. I guess you don't feel quite as confined as you'd be in a car or truck.
When traveling in our trucks, the whole back seat area would be crammed full of stuff. There was barely enough room and everything was wedged into place making it hard to get to things in the middle or on the bottom. We "kinda" had a system but nothing was efficient about it at all. With the Sprinter, all of our luggage, Kim's sewing machine, and my gear bag all fit between the rear bench seat and the partition. Plenty of room. Very nice for a change!
One negative point regarding the Sprinter is its sheer size and how that impacts driving in strong winds. It does have the new Cross Wind Assist but nothing can prepare you for driving across Wyoming! Going out, it was hitting us in the front and on the driver's side. I'd say there was about 5 hours of driving, where both hands needed to be on the wheel. Basically, you just didn't know when it would hit, so you had to be ready with a dual-handed grip on the wheel. On the return trip we encountered similar conditions but it was not as long in duration.
We took the big rig on several Forest Service roads and it did very well. Our trip up towards Basin Butte Lookout was a good climb with several newly graded water bars to test the clearance. I started out in 2WD to see how it would do and in the end we never needed 4WD. The BFGs and manual shifting made it very easy. Really learned to love the manual shifting option on those dirt roads. I can think of many situations where it will be an advantage.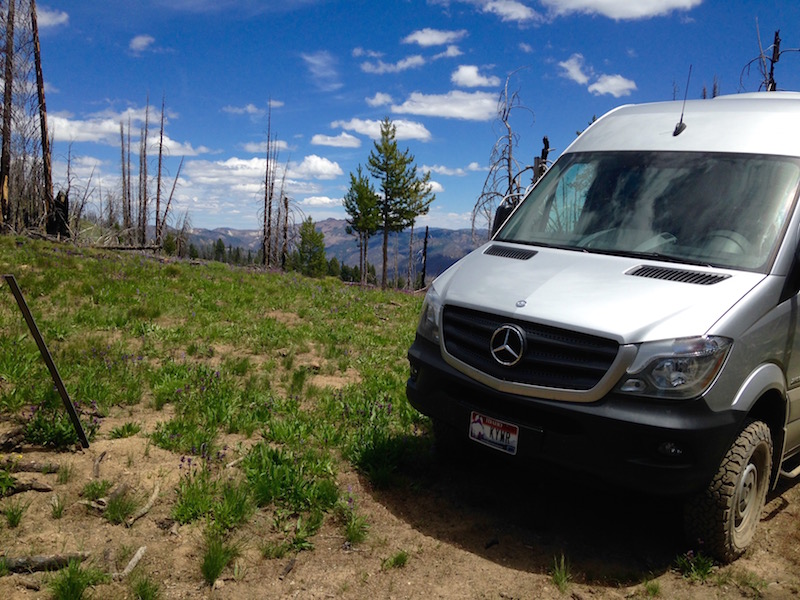 Most would think that fuel economy would be terrible in such a large, high-profile vehicle. Well, I'm very pleased! I'd been getting 13.8mpg -17.6mpg around the house which mainly included trips to Casey County to ride and maybe once every two weeks I'd drive it to work. On the trip, the worst I got was 14.6mpg and that was during the windy portion of Wyoming on the way out. Interestingly enough, the best I got on the way home was 18.9mpg and that was when the wind was working in our favor. Plus, there is a lot more downhill driving on the way back! There was no way I could achieve this type of fuel mileage in a 1/2 or 3/4 ton pickup truck. Especially if there was some type of trailer involved!
You know how folks that ride motorcycles on the street always do that "low wave" at each other when the pass on the roadways. Well for some reason, Sprinter folks seem to be that way too. I don't know how many times we'd see someone approaching in their Sprinter and they'd be waving with enthusiasm. Didn't see that one coming!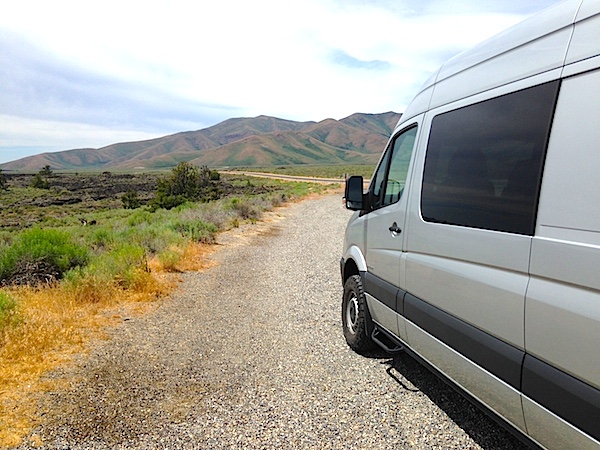 One evening I was standing out on the deck enjoying the view and a couple pulled up and parked out front. They jumped out of their Honda Element and ran towards the Sprinter. The guy got down on his hands and knees to look at the drivetrain and his better-half was just taking pictures like crazy. He jumps up and says, "It is a 4×4!" and she pointed at the emblem on the rear door. I never said a word and just took it all in. They were pumped they'd seen a 4×4 Sprinter to say the least! Gotta love it!
A couple weeks before the trip I was all torn up about the "biodiesel" availability between here and Stanley. I researched all sorts of things and studied Google Maps for appropriate fueling locations. Geez . . . that was all just a waste of time. We had no problems at all finding B5 or better . . . non-issue. I will know next time . . . having the diesel rotopax containers as a backup is still a good idea though.
One more note. The BF Goodrich KO2 tires are simply awesome. The ride is great, they did wonderfully on the forest service roads, there is no doubt they improve the look of the vehicle, and they are yet to show any wear after over 8,000 miles! If you have 4×4 Sprinter get some and make sure that you MB Dealer does the install and balancing. If you don't, they will wear out sooner and will not give you the wonderful ride that I've enjoyed.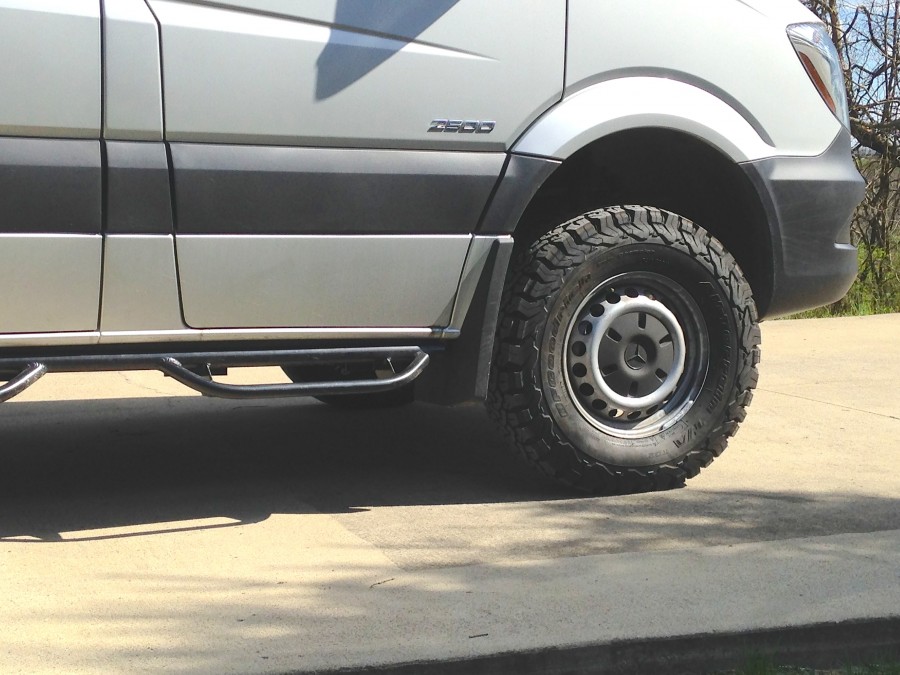 Bottom line . . . we're hooked. There are lots of other cool things about the Sprinter but I don't have enough "free cycles" to commit at this time. If you have a Sprinter, then Congratulations . . . if you don't . .  then maybe you should?!
See you on the trail!