I'd been contacted a few weeks back by John from the Atlanta-area. We met in 2013 while riding at Red Bird with Charlie and Steve from Indy. I had served as their "guide" around the loop that day and most all of the group made it intact.  That was a good day but unfortunately the weekend ended on a bad note. [Click here to read more about that adventure]
John and his friends Tom, also from Atlanta, and Tim, from down in Pensacola, Florida had a half-week of riding planned. Their itinerary started with a day in Georgia, one in Tennessee, another at Red Bird, and the final day with Jesse and I at our riding area. The forecast had looked great for many days but it turned to hell in hurry. By the week's end, there was a 90% chance of rain for the area and it had been raining steadily down that way all week long. Saturated is the term that comes to mind.
I touched based with John and he said they rode part of the Red Bird loop in the rain on Friday and were up for more "in the rain" riding on Saturday. Ok. It was a go. We were going to ride rain or shine! John said they were ready for an adventure and Philip commented they were going to the right place!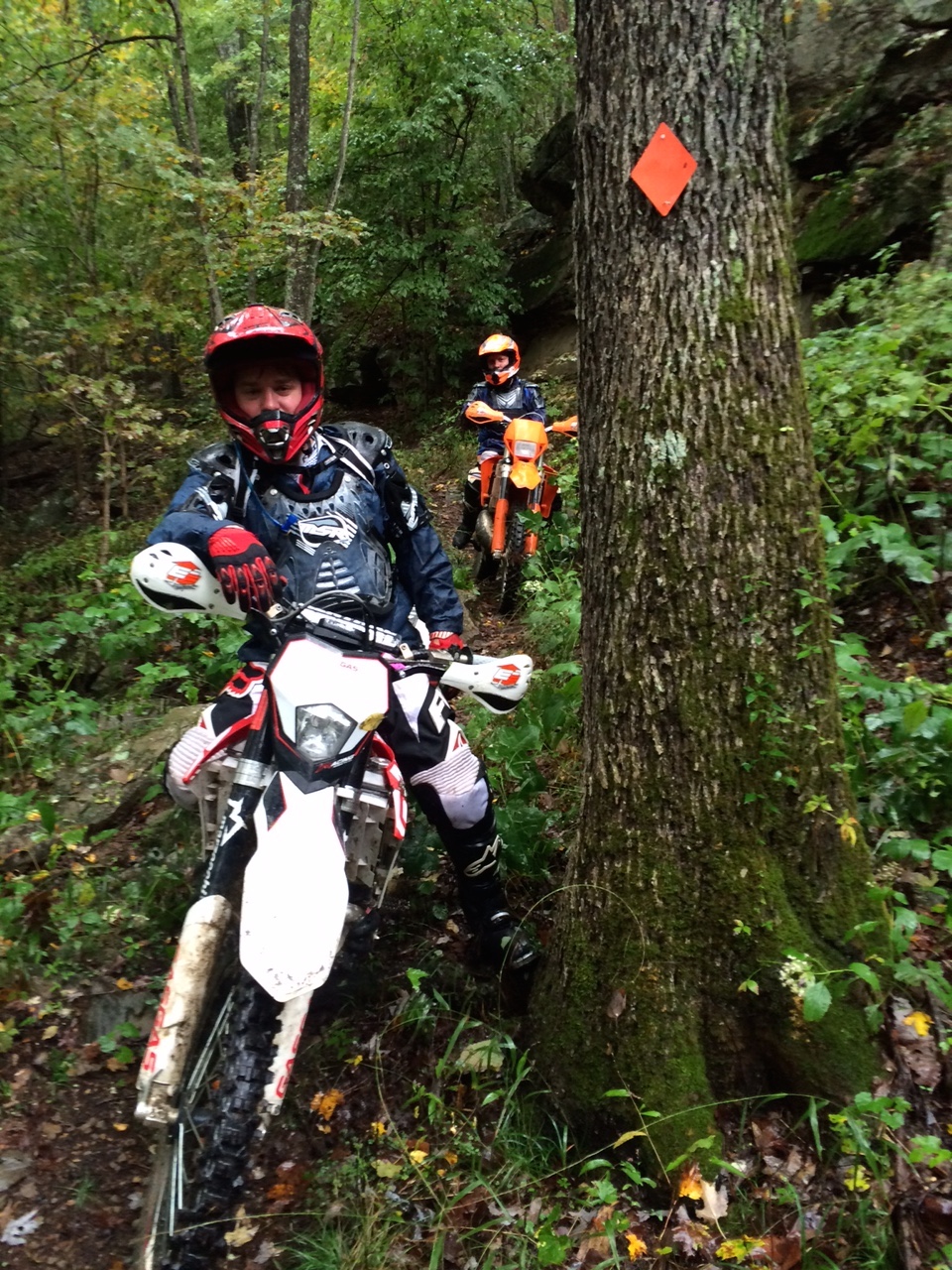 The plan was to meet at 9am but I was up and out of the house early. On the way down I noticed the nice, neat rows of golf carts that Kevin had lined up at the golf course. If folks were going to play golf in the rain, then we could surely handle riding in it. It was drizzling at the house and it rained on and off most of the way. But, when I pulled into park at 8:30am it was barely misting. Good deal.
I unloaded my bike and put it inside to keep the seat dry and got all my gear on. The forecast called for "numerous showers" and a high in the low to mid-50's. It was 48 when I turned off the truck. I made the decision at that time to not wear my Klim Traverse pants as honestly, I knew they'd be too hot with the level of exertion that I'd likely experience. But my Klim Traverse jacket was a different story, that was the perfect day for putting it to the test once again. It was loaded up with d3o pads in the shoulders and elbows, the back vent was fully opened, the underarm vents were unzipped about 3 inches, and the pockets were stuffed with spare gloves, batteries, paper towels, and other essentials for the day.
The "Southern Crew" showed up right on time and Jesse was not far behind. David stopped by as we were getting ready and got to meet everyone. That was good. We all appreciate the opportunity to ride where we do.
Things got better as when we rolled out, it was not raining. There were no breaks in the clouds, but at least it was not actively precipitating. Yes! This was much better than I'd anticipated.
As we made our way along the trails I noticed how dark it was. Some of the valleys are deep and there just wasn't much light. A fresh layer of leaves was covering the ground and obscuring most little obstacles like rocks, roots, and logs. The kinda stuff that'll grab your front wheel and throw you to ground. Caution was the name of the game. Below is a clip of some trail we rode before first break.
We made our first stop around 2.5 miles into the initial loop so I could see how everyone was doing and make sure they were pleased with the pace and trails. All seemed to be good. They really liked what they'd ridden so far and were ready for some more. By the way, we learned at this stop that John was running a new style Yamaha front fender on his "real" Husky WR250. I'd never noticed if he hadn't brought it up. What happened to his stock front fender? Still no rain.
A notable section of the first loop was our drop into one of the rock-littered, slick-bottomed, washed-out creek beds we like to ride. It is like a jungle down there in the summer with all the lush vegetation. This was one of the first really technical sections we tackled and everyone enjoyed the challenge! Here's a little video clip of the descent.
We made it back to the staging area around 11:30 with over 13 miles on my trusty Trail Tech odometer. Within a couple minutes, it started raining. Not really hard, but enough that it would not be fun to ride in. The group sat in the dry barn, ate some lunch, and did some bench racing. All of sudden, the sound of rain hitting the metal roof started to subside so we got our stuff together and headed out on the trail once again. Great timing!
The second outing included a small loop on the south side of the property and a decent sized loop on the north end. Both of these included some fun "goat trails" that were a little more interesting due to the wet conditions. I just wanted to make sure these guys got to enjoy some of the more technical stuff. The video clip below from Tom shows a portion of what we call the "Cat Cave Hill" goat trail.
Onward! Still no rain! This was good. Their plan was to be on the road and southbound towards Atlanta no later than 3pm and we were on track to make that happen. I don't blame them for wanting to get home at a reasonable hour.
I made sure to hit the new switchback downhill and the tight single track up the main creek on the north end and rounded out the loop with the primary goat trail above "the bowl". There was 21.55 miles showing on my odometer when I pushed the bike up into the truck. Not bad for a nasty-wet day, and based on some commentary, they were more than pleased with the whole experience. Something tells me our friends will be back for another adventure!
One more note about the Klim Traverse jacket . . . that is one awesome piece of gear. It is so tough and perfect for all the briar and branches we endure and although I did get a little warm, my upper body was dry and comfortable. Gore-tex is a wonderful material and Klim knows how to incorporate it into their higher-end gear. You can ride anytime of the year as long as you have the right gear and can get motivated to get out in the nasty elements!
A special thanks to the Southern Crew for having nice quiet 2-strokes and for appreciating the riding opportunity. John provided the photos, Tom contributed some video, and Tim entertained Jesse while he struggled with the MotoZ Mountain Hybrid on the gnarly Kentucky terrain. Great Times!
I'd venture to say that not many folks would have loaded up on a rainy day with a 90% chance of rain to go ride. You really have to enjoy the promise of an adventure and truly be "in it for the fun". We could have just sat at home but where's the fun and adventure in that?
See you on the trail!