Day 4 of riding in Idaho was great as usual. Dwayne, Chip and I set out on the Little Casino trail around 9:30am or so. Dwayne hadn't ridden this trail since the re-route they'd done 2-3 years ago. I'd only ridden it once when the trail followed the original route but honestly don't remember much about it except that there were multiple creek crossings.
About three miles in we stopped and Dwayne said, "This new trail sucks!" He preferred the old route that had less exposed side hill, more creek crossings and a good climb to the top of the ridge. It is not a bad trail, its just not what he'd ridden for so many years. My understanding is that the new route gets you up to the ridge sooner and it never crosses the creek. This is all part of a strategy to keep trails further away from running water thus reducing erosion and sedimentation.
Next stop was a couple logs down across the trail. They weren't huge so we stopped and cut them with the hand saw. This section of the trail had been cleared recently and whomever did the work certainly earned their wages. Dozens of logs were across the trail just a week or two beforehand and the sawdust piles were still visible from the fresh cuts.
Chip wanted to stop where there is a good view of Redfish Lake and the Sawtooth Range. With that in mind we made our way up the trail looking for the best place to get some photos. A little climb and a few corners later the perfect spot came into play. Ended up being a great view in all directions! Chip got the photos he wanted and I took a few as well.
When we headed up the trail from where we were in this photo, I rode Dwayne's new Beta X-Trainer for about a mile. The bike was very nice for the type of riding that we do. It's plushness and linear power delivery are perfect for mountain trail riding. Anyone with a short inseam should try the bike as well. Dwayne said it is 10% shorter in both directions which makes it very maneuverable. It is a 300cc engine and all you have to do is dial it back a bit and you'll be reminded it is a big bore. Oh . . . and electric start too!

Onward to the "4-way" where the Casino Creek trails come together with the trail up to the Rough Creek Fire Tower and Martin Creek that leads down to the Warm Springs Meadow. On our way up the hill you pass the junction with Boundary Creek Trail. I went down that trail about a week ago at the recommendation of a local bicycle rider. He said that anyone who can climb up Boundary Creek without stopping on a bicycle has iron lungs and legs!
At this junction we saw a bicyclist coming up that trail. We stopped and talked with him for a few minutes. If I understood correctly, he only stopped once on the way up. One thing for sure . . . this guy was fit! We told him where we were headed and he indicated he'd be going the same way. I'd cleared several logs off the trail ahead the week before so I told him it was probably clear. He waited for us to depart and then headed up the hill.
Martin Creek Trail was the plan so we took the right hand turn and made our way down the trail. I'd forgotten how darn rocky it was. I'd been up it once and there is this one rock step up that is just plain tough. As we approached the Warm Springs Meadow, the downed timber became more and more frequent. Looked like a big game of pick up sticks. That is just the best way to describe it. Forward motion was slow at times throughout this mess.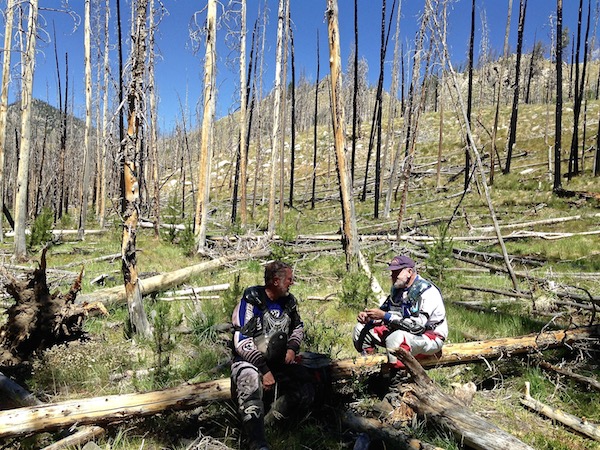 So we are sitting here on the trail, taking a break after crossing 50+ downed logs, and the guy on the bicycle rolls up. Yep. he'd caught us. Very impressive to say the least. I know Martin Creek is almost all downhill but he'd climb another 750+ vertical feet since we'd seen him and made his way down the trail and across all those logs and over all the rocks. Wow!
We were just getting ready to leave so once again he let us go first. About 20 more log crossings and we rolled into Warm Springs Meadow. What an awesome place! For many years I'd eyed this valley on the aerial photography and topographic maps. It was 2013 before I actually made my way to the valley. Awesome views!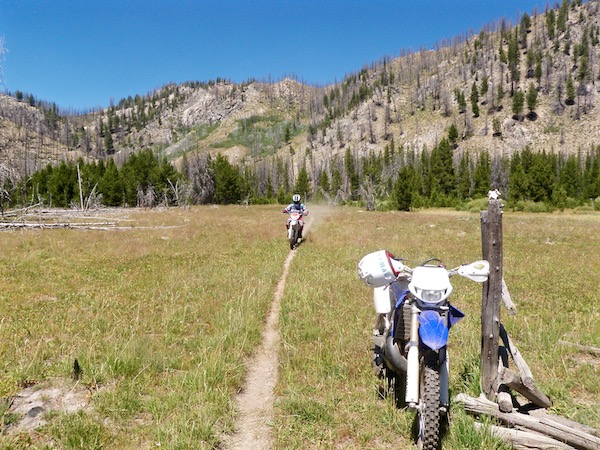 About 1/4 mile past the location shown in the photo above you take a right and head up the valley. It is really marshy in that area as beavers are active nearby. We carefully picked our way through the wet spot and as we were getting back on the main trail we saw the guy on the bicycle coming our way. Geez!
The next mile or so is flat and there were several downed trees along the way to the next creek crossing. This crossing has a "bridge" if you  want to call it that. Essentially, there are about two dozen logs laid lengthwise across the creek. No boards or anything on top. We came to a stop got off and carefully walked our bikes across.
On our heels once again was the guy on the bicycle. He was incredible. Chip told him it was all "downhill" just ahead and onto the Williams Creek Trail. Chip had forgotten there were two more small ridges to traverse before the final descent. Oh well, this guy was in the for the long haul.
Dwayne took off and I rode just behind his dust all the way to the Williams Creek trailhead just of ID75 near Obsidian. Chip rolled in about 3 minutes later and we took advantage of some shade offered by a pine near the trailhead sign. There were two vehicles parked there and within 8-10 minutes bicyclists arrived, loaded up and drove away. About 5 minutes after that, the bicyclist rolled right up to us. I was amazed! He'd climbed up and over those two ridges and cruised down Williams Creek with ease.
In the end, we learned he was from Washington State and was not acclimated to the high altitude as he lived at about 800 feet above mean sea level. His bicycle was a "Felt" and from what I figured the frame alone cost around $10K . . . yep, just the frame. He'd been "glamping" (his term) with his family at Redfish Lake.  He was impressed with how we got our bikes over all the downed logs but we were blown away with the fact that he'd been keeping up with us for nearly 30 miles!!
Before he pedaled down the road, he took some pictures of us and grabbed a selfie or two. It is about 6.5 miles of flat pavement to the turn off for Redfish Lake from the trailhead. I estimate that the loop he'd ridden was ~36 miles. Wow! Dwayne put it best when he described the guy as "sculpted" . . . you can probably get the picture.
We too made our way up the road and back to the turn off for Boundary Creek. I was looking forward to climbing the trail back up to Little Casino. A group of horses was coming down and we all got off the trail as best as we could. One horse was spooked by the whole thing and almost bucked off the rider. It was kinda scary. Didn't like it that that happened.
I met a hiker half way up so I shut off my bike. She walked by, said hello and high-fived me! Wasn't expecting that! The trail was clear up to the junction and all the way back down to the Casino Creeks Trailhead. Simply awesome single track compared to anything we have in Kentucky.
Dwayne had an iced downed watermelon in his cooler so Chip cut it up and we enjoyed it before loading the bikes. What a wonderful way to finish up another great day of riding in Idaho. No doubt I'm fortunate to ride with these guys!
It was good to shed my gear and I was certainly getting hungry. Jumped into the Sprinter and pointed it towards the hotel for a shower and dinner. Already thinking about the next riding adventure!
See you on the trail!