I just finished putting together the top from that first kit I started on last week. It is a small quilt, only 42" x 42". The blocks I showed last week are put on point and the quilt is assembled in rows. Here is a closeup.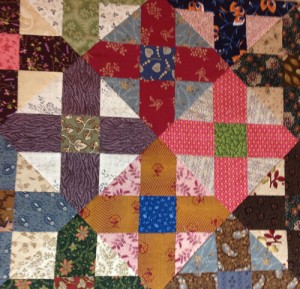 I loved laying out these blocks on my design wall. I like the scrappy patchwork look of this quilt and what a great way to use up scraps of any kind as long as you have the different values (lights, mediums and darks). Here is the finished top.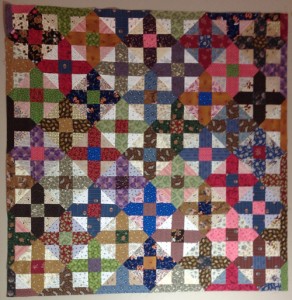 There are no borders on this quilt which is making me very happy! I noticed recently that most modern quilts don't have borders. I like that idea. Sometimes piecing and adding large borders at the end of making a quilt can be so tedious…
This quilt only requires 2 and 3/4 yards of fabric for the backing. I thought I would have to piece a back, but found 3 yards of this great brown paisley fabric by Kaye England in my stash. I have this same design in many different colorways; I love the pattern.
And, here is a great plaid fabric for the binding; also by Kaye England.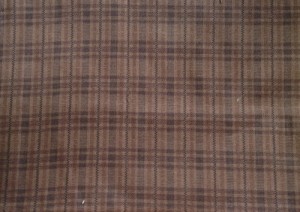 Sew long from the Quilter on Osage Hill!