I am a big fan of the Kaffe Fassett Collective and one of my all time favorites are the Shell Montage Pattern by Philip Jacobs. For years I bought this pattern in every colorway I could find and saved it up for a future quilt. I found a pattern in a quilting magazine by Kaffe Fassett called Diamonds Forever and thought this would be a great quilt for these shell fabrics. I had always wanted to do a quilt with diamonds so it was perfect. I decided to use shot cottons and peppered cottons for the borders in colors that match the different colorways. Here is my first block.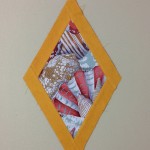 This quilt uses templates which I do not normally use so was a little out of my comfort zone, but not too big of a deal. The finished quilt is 57″ x 80″. There are 50 full blocks, 20 side blocks and 4 corner blocks in the quilt. I love the look of the shot and peppered cottons with the shell fabrics. Here is the finished quilt: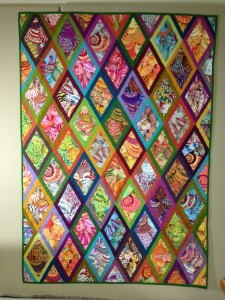 I decided straight lines would be the best quilt design. I used my walking foot on my Bernina 440 to quilt it. I did lines offset off from the borders by 2 inches. The design makes a couple diamond patterns and I thought it worked out well.
For my back I used my Shell Montage in beige which is my favorite colorway
Until this year I didn't do quilt labels even though I knew I should. I have finally found the method I like the best and am really loving these labels. Here is the label for this quilt.
I have been working on a backlog of quilt tops to be quilted this year and am happy to say I am making a dent in my stack. This is the 8th quilt I have quilted this year which leaves 5 to go. My goal is not to get such a big pile of tops to be quilted in the future, but at least I am making good progress!
    Sew long from the Quilter on Osage Hill!