I am so excited about my 3rd Unfinished kit (soon to be finished). First, it is nice to be working with a different kind of fabric. I love the Civil War reproduction fabrics, but it is nice to have a change of pace. This kit is a Sampler quilt using batik fabrics; it is pretty large finishing at 82″ x 87″. I must admit I have not made a lot of batik quilts although I love the look of the fabrics. I always forget how great batik fabrics are to sew together; they feel a little stiffer than regular cotton prints.
This kit was part of a Shop Hop from I believe 2007. This was the shop hop quilt for the Wilderness Road Quilt Company in Danville, Kentucky. What is really neat about this years' fabrics is the focus fabric which was designed by the shop owner's husband. This fabric features horses and outlines of Kentucky. It has a lot of movement and is the perfect color for the Bluegrass State.  Isn't it fabulous?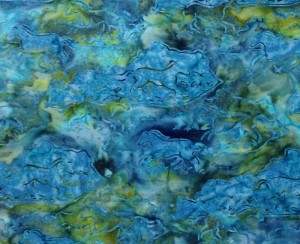 Since I didn't visit all the shops in this shop hop I only had the directions for a couple of the blocks as well as the overall construction of the quilt. I was able to figure out how to make all the blocks with minimal effort. I had so much fun piecing these blocks; many were new blocks to me. There were 14 blocks in all. Here are some of my favorites:
In the center of the quilt is a beautiful Dresden Plate. It had been a long time since I had made a Dresden plate, but luckily those instructions were included with the kit and since I had the right ruler to make the wedges it was no big deal. I was pleased with how flat my plate laid in the end. I think the plate is striking!
I was so pleased to finish piecing the top and get the borders on last weekend. I really love the colors of this quilt. Here is the finished top draped on my design wall. I love the thin purple borders with the wide blue border between them. I think this quilt is stunning! Special thanks to Leslie Featherly and Tori Morris for designing this beautiful quilt!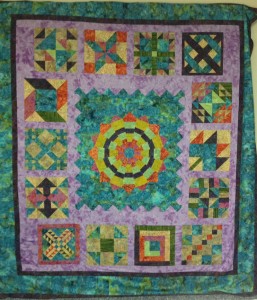 I found a beautiful backing fabric in Michigan on sale none the less. It has a leaf pattern on it and has oranges and purples like in the top. I decided to add a piece of the left over dark purple with the leaf fabric. Here is a picture of my backing fabric. Very appropriate for autumn.
Only 2 more Unfinished quilts to go! I must admit a month ago I was thinking there was no way I would finish these all by the end of the year, but now I am feeling confident that I can at least get the tops done. Who knows, maybe I'll get them all quilted too; we'll see.
 Sew long from the Quilter on Osage Hill!