Partition: The C-pillar partition is nearly complete. Olympic deck coating was used to cover both the main panel and the door. There are a total of 3 coats on each side but none on the edges. I taped them off using painters tape and it worked quite well. All three panels fit perfectly. The photo below shows the panels prior to any finishing.
I placed a piece of 1×1 angle aluminum across the front of the partition where it meets the floor. I'll be using 3-4 screws to secure it to the floor and some larger 2×2 angle aluminum braces on the backside of the main panel. Those, along with the existing brackets at the bottom of the header panel, will do a fine job of holding everything in place.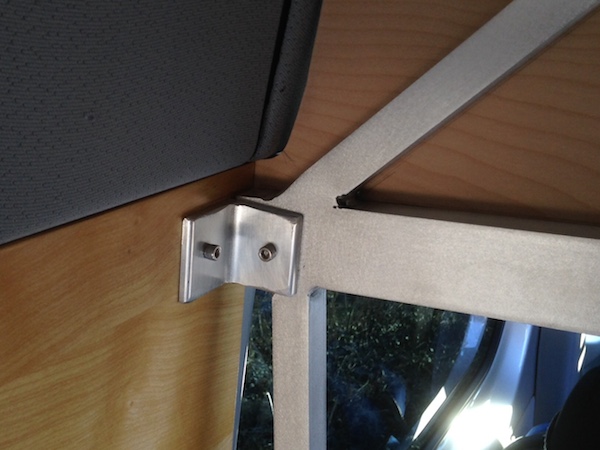 Each panel is attached to the frame using 1/4-20 stainless steel hardware. The partition frame was drilled and tapped at each anchor point and a thin nylon washer was placed between the panels and the aluminum frame. I know the van will flex and things will rub and squeak and so forth.
In the end, I'm very pleased with how it is coming together. I'm still exploring options for securing the door panel. I've looked at a few plastic knob options but have some other things in mind as well. Getting all the curves to look good as they wrap around the AC unit, headliner, and sidewalls was a challenge.
The upcoming installment will include a final update on the partition,  some info on my "fluids box" and a custom wheel well cover that does at least triple duty!
See you on the trail!