When I was young, we'd ride each time it snowed. Sometimes it was just on a small plot of land next to our house, but we'd ride. I can remember my Father, my Uncle and me going around and around a large figure 8. Once you got the hang of it, you could drift around the corners. Good practice!
Sometime in the early 70's we got a really big snow that shut down things for days. My Father rode his Suzuki TM-250 to a factory in town where he worked in Maintenance. I'd say he was one of the few people to show up for work!
Basically, riding in the snow teaches you a lot about traction, momentum, and weight distribution. Anyone that rides a dirt bike should try it at least once! Like David said after riding last week, "That was mucho fun!" He'd never ridden in the snow before and thoroughly enjoyed it.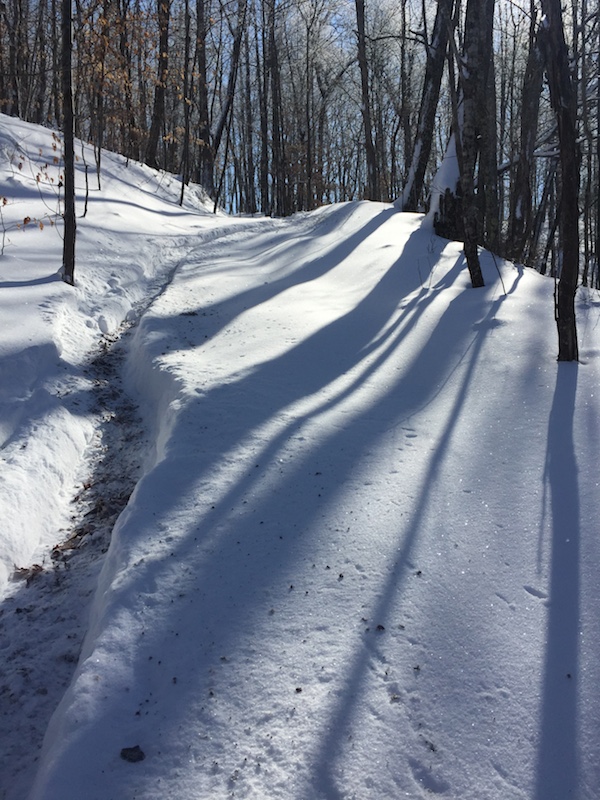 I'm nearly 50 and at this point, I've probably ridden in the snow less than two dozen times. Sure, we get snow in Kentucky, but its occurrence is rare and in most instances there isn't enough on the ground to justify loading up and heading out.
Out West, now that is a totally different story. Their riding season is so short that they take to the snow in the winter. They talk about snowmobiles with turbos, throttles on both side of the handlebars, and "boondocking" in the back country. Dwayne, out near Tahoe has a KTM fitted with a Timbersled and Gary in South Dakota has knobbies with spikes that are just plain gnarly. Obviously, the snow doesn't keep them inside over the winter!
To this day, one of my most memorable snow riding experiences occurred down near Duganville (bet you don't know where that is). It was in the early-90s and I had a 1991 Honda XR600. There must have been 18″ or more on the ground and I went down to my friend Bob's to ride. We had an established loop that was about 7 miles long around his three properties. Well I made the whole loop. I put that XR600 in fourth gear and held it at about 3/4 throttle and went everywhere. Up and down every hill, across every creek, and through each "cedar tunnel" . . . it was a blast! The snow was so deep in most places that I could just step off the bike and it would stand up in the snow with no support. I have yet to ride another bike in the snow that was better than that XR. Period.
Finally it happened. We got some snow a little over a week ago. Actually, we got a lot for Central Kentucky. There was about 12″ at the house with larger drifts here and there. At the end of the road, the drifts were over 2 feet deep. That was on Friday, and on Sunday, Jesse and I went to ride down in Casey County.
For some reason I expected there to be less snow on the ground down that way but when I hit the Lincoln-Casey line the road went to hell. I was driving the Motovan and it was not in 4WD so I eased on down the road noticing that everything "covered" with snow. I'd say there was 17″-19″ of snow on the ground where we parked. Never a dull moment!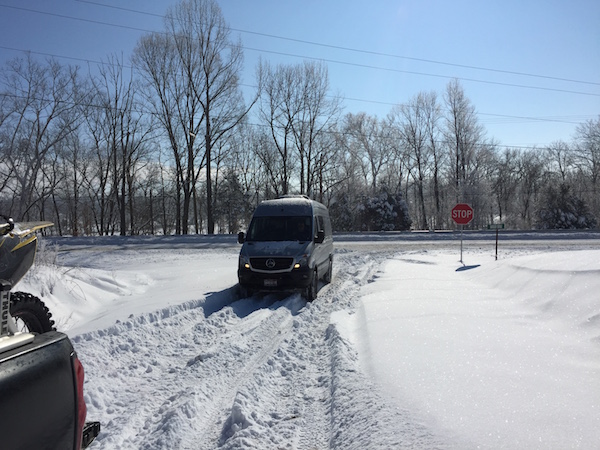 I had spent 50 minutes or so putting sheet metal screws in my tires on Saturday evening and it paid some dividends. Regardless, forward motion was slow at times and a bit hard on the bike. A big-bore . . . that is a big-bore four-stroke would probably be the best for "big snow" riding but the YZ went ever place I pointed it.
We only covered about 4 miles and 50% of that was just logging roads. Towards the end of the ride, we came down this one hill and the snow was piled up almost 3 feet deep! I almost went over the bars getting to the bottom of that one.
The next Friday evening was spent removing the screws I'd installed the weekend before. It was going to be in the mid-50's on Saturday and at our house, the snow was 95% gone. Mistake. Should have left the screws intact. Every North-North West slope was still covered with at least 6″ of snow. In most places it was more. Totally unexpected. Luckily it was heavier and not as light and fluffy as the previous weekend. We got around well but it was tricky and a bit tiring (see video below).
Bottom line. If you own a dirt bike and it snows at least 6 inches where you live, get out and ride in it. You don't need to go far, just get out. Don't be a "fair-weather" rider. You'll be surprised what you'll learn and fun will be had in the process!
See you on the trail!