A group of us made the commitment to race the Sandlapper National Enduro down near Columbia, South Carolina three months ago. We'd been to that race back in 2011 and made the (nearly fatal) mistake of getting on row 87. It was a miserable experience, but Bo, the Sheriff, and I survived the whole ordeal. The sand whoops would swallow a bike and stumps were everywhere.
But hey . . . we had a plan for 2014!! Get on an early row and maybe there wouldn't be a bunch of sand whoops. So, on sign up evening I made it all happen and got Earl, Bo, David, and Sam on the same row. Jesse called just 5 minutes after I'd signed us up and said he wanted to go too. I quickly got back on the site and requested the row in front of us. I had requested row 7 and 6 for Jesse but we ended up with 4 and Jesse was placed on row 62. Oh well . . . it was not for lack of effort on my part.
Once again, the weather promised to be great compared to the Bluegrass State and whole crew was looking forward to the trek down South. However, just like the last enduro, Jesse was unable to attend due to work-related commitments. So, the week before the race Mr. Kyle Miller gave me a call and I laid the offer right in his lap. "Do you want to go the National Enduro next week Wildman?" . . . first there was a bit of a pause . . . then a fairly positive "Yes" emerged. He was on the hook to ride in Jesse's spot. Could Jesse Smith (alias) obtain another Vet B Class win??
Onward! Everyone was excited. David and Sam really liked the Black Coal Enduro last year and Bo was anxious to head south for some warm weather riding. I knew that Kyle would keep things interesting for us and Earl was glad to not be going it alone! It is good when things are good!
We all left at different times on Saturday and Earl was the first to arrive at the venue. My truckload showed up about 30 minutes later. David and Sam were running behind and didn't make it to the course, but at the end of the day we all sat down for dinner together at the Applebee's is Lexington, South Carolina in front of our hotel. It is always good when a group can sit down together for a meal. Good conversation about the day ahead!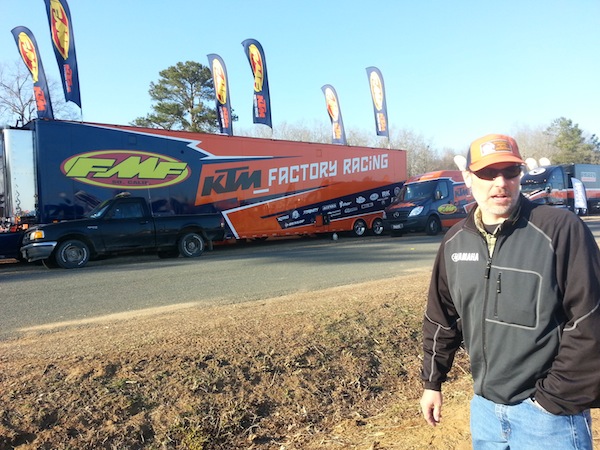 The next day began early but it worked out well and we arrived at the race with just a little over an hour before our 9:04 key time. I don't like being rushed but overall, everything I "needed" was ready to go. Kyle helped with sandwiches for lunch and our gear as he had almost an hour to wait after we took off. The group headed for the line and Kyle tagged along to grab a couple photos. Shown (left to right) below are Bo, David, KYWR, and Sam on the line for the first test.