Custom Window Covers:  The rear windows are tinted like the two large ones on the side but you can easily "see" what is inside. So, we thought it would be a good idea to cover them from prying eyes when it is parked at hotels. There are several options for window covers out there, but none were exactly what we wanted or what we were willing to pay for.
The first step was to create a good template. Luckily cardboard easily slid between the glass and the metal. I grabbed a couple Moosehead Beer case boxes and carefully broke them apart and folded them out flat. I slid them between the glass and metal and traced the outline of the window. I pieced it all together with that blue painting tape, cut it out, and had a perfect template.
Well . . . my wife is an awesome quilter and made some window covers like she would a quilt but she added an extra layer of batting to make sure it was totally opaque. She used a very high-quality solid black fabric and a variegated yellow quilting-specific thread for the quilting. The freehand quilting is done in a "topographic" style and is of no particular area. I think they both look absolutely awesome!
The covers are secured with seven 3/4″ x 1/8″ rare earth magnets and are not going anywhere! They are easy to attach, reposition and remove. We were worried that the magnets would be too strong so she placed them between the two internal layers of batting. Our plan is to just roll them up for storage. I'm on the lookout for a short but wide map tube that will hold them when rolled up.
Below is another view but it is harder to see the topo lines due to the lighting. This gives you a better idea of the size of the doors and the window covers.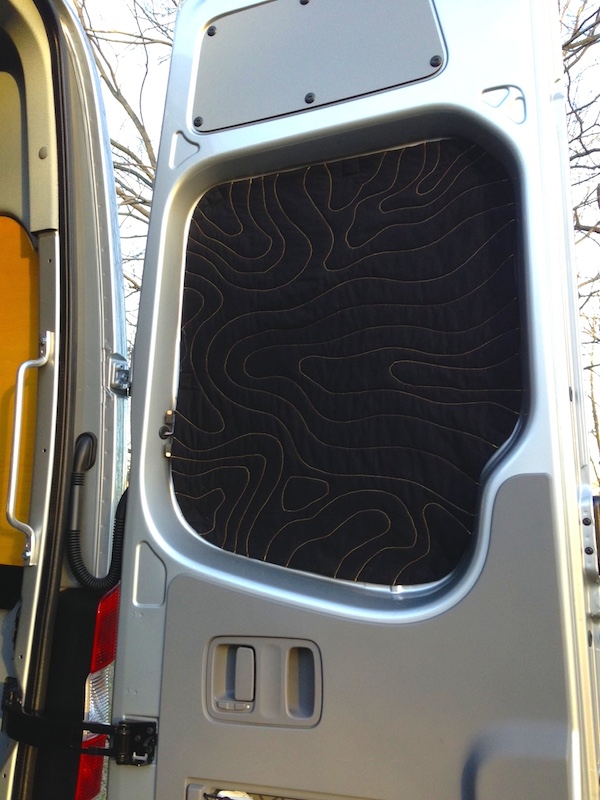 The final view shows how opaque the window cover is with two layers of batting and the good fabric. No light is getting through those covers! We were hoping that the topo lines would be visible when looking in from outside but it is totally blacked-out and you can't see a thing.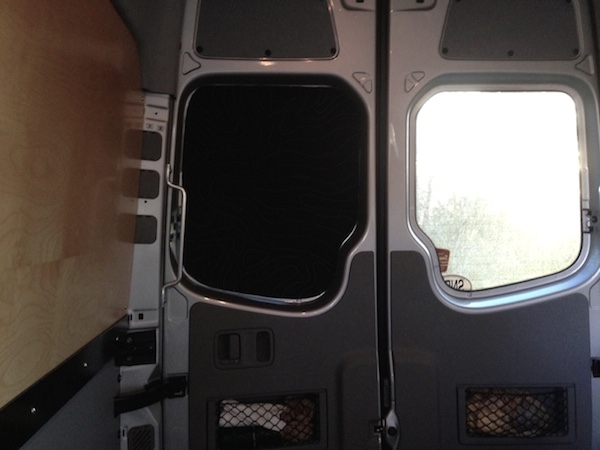 We're both very pleased with the outcome. Having a master-quilter as a wife sure has its advantages!
See you on the trail!