My first bike was a Yamaha TY80. Yes, a trials bike. My Dad figured that would be a good bike to learn on. He was right, it was. It would go anywhere. He fabricated a mount and bought a small Preston Petty black front fender and raised it up like his MX bike. A knobby tire went on the back and front and I thought that was so cool! The metal tank was mostly white but had the Yamaha yellow across the bottom with a little black stripe. Not quite like the YZs, but close enough for me.
Of course, what I really wanted was one of new YZ80s with cool yellow, black, and white graphics. I didn't get one, but my Dad meticulously taped up my simple white helmet and painted it Yamaha yellow. Then, he painted that black Yamaha stripe around the top and down around the back. We snapped (yes snapped) a white "duck bill" on the front and I was ready to go!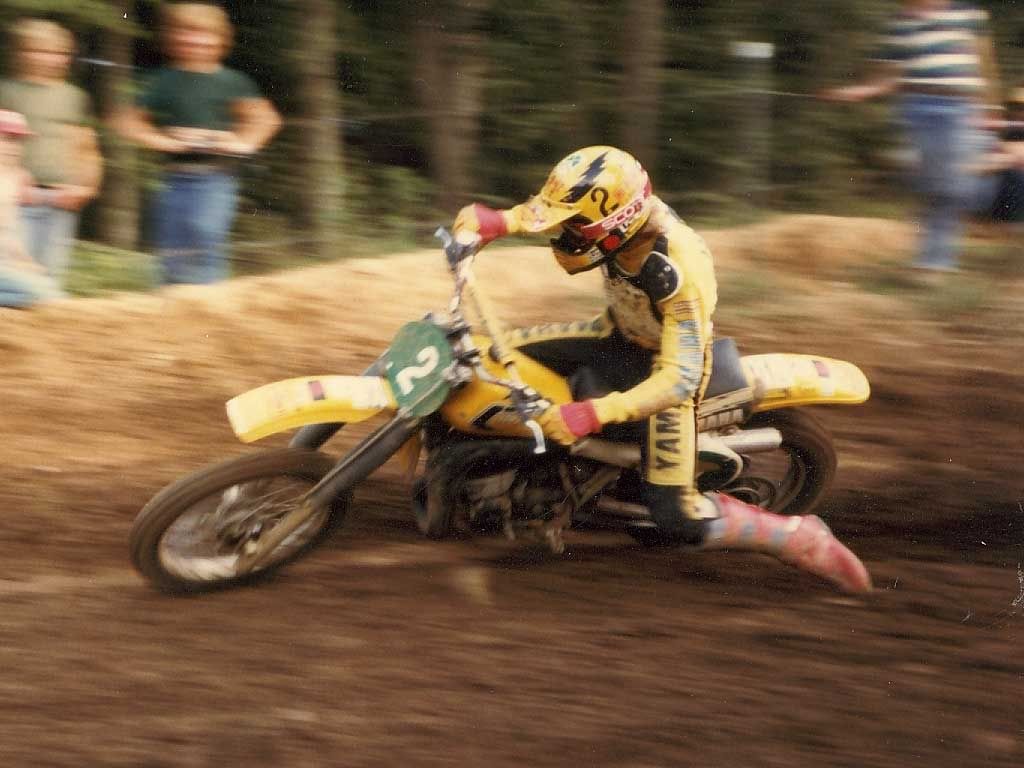 Years later I had some ITs, WRs, and YZs but none of them had that "Hurricane Hannah" look dominated by the Yamaha yellow and their signature white and black stripes. Well in 2006, Yamaha released their 50th Anniversary Edition Yamaha YZFs. The color scheme was dead on the Hurricane Hannah bikes of yesteryear but it had the latest four-stroke race engine. Our friend Jesse Dean bought one right away. I was impressed but didn't need a new bike at the time. Oh well, I could look at it when we rode with Jesse.
Fast forward 20 months and Jesse has a broken leg, can't work, and his Dad is pissed. So he needed to sell his bike. Well I jumped at the opportunity. I finally had my Yamaha Yellow YZ!! It was bit worn but still had the original plastic and was in good shape mechanically. What happened next is that my Son decided it was his bike and he's been riding it since late 2007.
So, I bought all new plastics for it over a period of time. Then, slowly, I purchased all the graphics. Those were NOT cheap, but I set it all aside in a box to keep for a later date. That later date came last weekend. I'd been looking for an excuse to put them on for years and the upcoming enduro up in Lynnville was the occasion. I checked with Philip first and he was all for it. The process began the next night and it was completed by Friday. I took my time and did it right and cleaned up the bike well before installing it all.
The result is very nice! Just what I wanted when I was a kid. The Hurricane Hannah Yamaha is now in my garage. Think I'll hang onto it for a while.
See you on the trail!