Honestly, I was very apprehensive about this "Dual-Sport" thing as I am not comfortable at all riding on the road.  It scares me. I've laid it down going 50+ on a dirt road and can't imagine hitting the pavement at any speed. But . . . I had been told that this event was closer to an Enduro than any other Dual-Sport event. So with that knowledge we made plans to attend.
The event was staged at Lake Linville in Mt. Vernon, Kentucky, the County seat of Rockcastle County. It was a beautiful morning and the forecast called for perfect conditions. There was very little rain the week before so I figured the trails would be relatively dry for the first Saturday in May (Derby Day).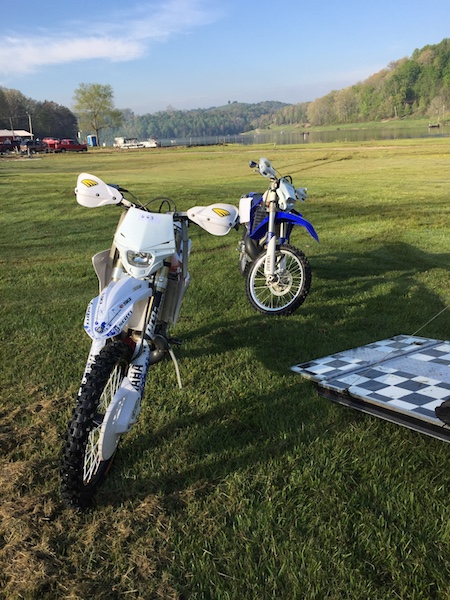 Unfortunately, we missed the Rider's Meeting as we were trying to get our act together for the day. I had laid out what I thought was the perfect riding gear combo consisting of some Klim Dakar pants, a vented Klim Mojave jersey with my awesome Klim Dakar Pro Jersey layered on top. That Dakar Pro Jersey is so cool. It may be the most bullet-proof garment I've ever owned. This was topped off with some Klim Adventure gloves, Gaerne boots, and my trusty Arai VX-Pro 3 with the classic solid white color scheme. Onward!
At about 8:40, riders started leaving the staging area so we followed accordingly. I had my route sheet, the odometer was reset, and my GPS trip log was reset. Ready to go!
Well the first 6.9 miles were asphalt . . . hmmm . . . I'm thinking "What did I get myself into?" Then, we turned onto a gravel road. The gravel quickly deteriorated and at its end was a left onto some single track trail. Very nice. This section was laid out well along the contours of the hillside and emerged at the top of a hill on a gravel road. The last section was certainly more enjoyable than the first 6.9 miles.
There was a "Key" provided on the route sheet that provided two characters codes for each surface type (i.e., BT – Blacktop, DR – Dirt Road, TR – Trail, etc.) which proved to be useful. However, the variance in what was to be considered a Gravel Road was VERY wide. It might be fresh, 1.5″ deep gravel (very sketchy), well-packed gravel, or some washed-out road bed where gravel once existed many years ago. The later actually turned into a little single track trail as riders consistently picked the line of least resistance.
There were also "Advanced Sections" scattered here and there. Those were designated with a green Moose arrow rather than the standard issue orange. Those were the best trails we rode all day. If you took the wrong bike on those trails you'd be miserable for sure. Travis rode his DRZ-400's' decked out with gnarly knobby tires (IRC VE-33 on the rear) and showed up quite a few guys on pure dirt bikes!
In each of the advanced sections there were places where a bottle neck would develop. Some guy would "fail" at negotiating a hill or creek crossing and a bit of a backup would slow the pace. In most instances we waited very little or creeped around and up through the carnage. The smell of antifreeze (the smell of KTM's) lingered at the top of every challenging hill as riders struggled and their buddies reached out to help their fallen comrades. Seriously, (most) everyone was very nice and courteous. Certainly a great group of riders!
None of us had any problems at all with the "obstacles" as Jesse employed his Rekluse and displacement to crawl up and over and Travis just attacked each one on that DRZ as it was his only option! Definitely glad I had my "WR" 250 one those sections.
So all of sudden, my odometer is saying that I'm going much faster than I am. Something is up. I slide my Trail Tech odometer out of the holder and back in real quickly. Still reading the same. When we finally come to a stop I see that it has switched to Km/hr and the battery light is flashing. Geez . . . I picked up the older of the odometers. Oh well. So I get a reading from Travis and start tracking it on my GPS. Now I'm doing math on the fly. I'm not an old school enduro rider, nor am I Bryan Bunch. A few stops, turns and so forth on the route sheet and I was done with keeping track of that info.
At one point we emerged on a familiar looking road. Travis asked if I knew where we were . . . Ah hah! We were on the road that goes back to the main trailhead for S-Tree! We continue along that road for a bit and arrive at the Sandgap Community Park. We've driven past here a dozen times over the years when riding at S-Tree. There were nearly 100 bikes there when we arrived and they were still rolling in. Lunch was provided as a part of the entry fee but the local Fire Department took donations in a fireman's boot at the beginning of the lunch line. Good idea for the locals and the event promoter.
While heading to the end of lunch line, I came across Charlie Williams from Indy. He was pulling in on his GasGas as we wandered towards the shelter house. We chatted a bit and moved forward for some deserved nourishment and bench racing.
Travis was complaining about a certain rider that had left us behind on a trail ride a couple years ago and Jesse said, "Well he doesn't have anything on Ross!" Charlie chimed in immediately and concurred, "Ross will do the same and he has the right tools to do it with!" If you'd ridden with Ross you would understand!
We saw several riders at lunch that were once KORHS racers. Many asked what had happened with the series. It is obvious that many folks appreciated what we did, but continuing at a loss is just not the way to go. I appreciated hearing all the good comments. I said farewell to Charlie and we headed on down the road to get some gas.
The gas station was a hoot! There were 45+ bikes there at any given moment for I'd say 20-25 minutes. Jeff was topping off the RMX, Travis fed the DRZ and Jesse's WR300 had sucked down nearly 3 gallons so far! I saw just as many people there as I did at lunch.
The trails during the afternoon were just as good and from looking at the GPS I could see that we were starting to loop back around towards the staging area. The trail traversed some properties that we'd used for racing in the past and it was neat to suddenly realize that we were at that location!
At various points during the day I turned on my helmet camera. I tried to only use it on the best of trails but ended up getting some footage of paved and gravel roads. The plan was to get several 3-5 minute clips out on YouTube and I'm making progress with 4 posted for viewing thus far. Below is the first of the bunch. Make sure to click on the gear and watch it in HD.
Below are the links to the other 3 in this series:
https://youtu.be/8DyEVUYJutk
https://youtu.be/w7SyETywLJk
https://youtu.be/sE38EsagO8U
The afternoon trails provided more great scenery, had some tricky creek beds, and were laid out to wrap up the event in a good way. The promotors did a great job for sure! At the end of the day, Travis' odometer said 116 miles and my calculations using the GPS and my odometer reading before it gave out was also right at 116 miles. Other folks said they got 125 miles so I'm not sure if we missed a section or what. Regardless, it was a good time!
My regret at this point is that  I did not go back on Sunday. I hadn't made plans to do so but will next year for sure! Marty said the percentage of trail vs. gravel vs. road is about the same but it is only 80 rather than 125 miles. Jeff said it was well worth the time and highly-recommended by many of the riders that had gone with him in the past.
My plan is to go again next year! Who's going with me?
See you on the trail!