If you've known me for a while then you must be aware that I am fond of Moosehead Lager. It is my beer of choice and has been for over 20 years! Yes, over two decades of commitment to the brand.
During this time, I've seen them change the packaging several times and at one point, they actually changed the diameter of the bottle. They made it narrower and taller. Well, this didn't suit me well at all. I had these very nice Coleman bottle coolers that were extremely functional. They weren't some cheap foam stuff that falls apart and does little for cooling, rather, they did their job very well. However, the new bottles didn't fit in those coolers any more. The bottle would just slide right out. This must have been about 8-9 years ago. Wow! It was early 2001 and I found the photos!
So, I was able to move on and guess what? I found some Moosehead Lager green foam bottle coolers with the logo screen printed in full white on opposing sides. Coolness! I immediately ordered 5 or 6 of them from what I can remember. We'll over the years, all but one met its demise in one way or another. I still have that one and used it up until last night. It has some rips in it, the logos are all but gone, and the bottom was glued in from some old yellow foam cooler I had. This particular one has travelled with us across the US and back more than once.
So last week I hit the motherlode! I found that the Moosehead Country Store had a new product. I go there frequently and look to see what they have. The product was a Moosehead Lager green zippered bottle color with the full color logo on one side! Very nicely done! I immediately ordered 10 from New Brunswick (the home of Moosehead Breweries).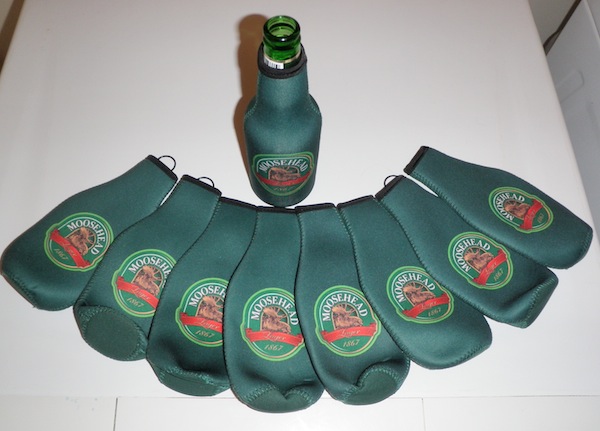 The package was delivered today! I opened it up and was very pleased. Nicely done! A good screen printing job. I'll be conducting thorough testing of the new product over the next few weeks and will report back with both quantitative and qualitative results. In the meantime, enjoy (responsibly) a Moosehead Lager! And as they say, "To all things made well!"
See you on the trail!