I'd heard about this event for many years, but honestly, I didn't have a good idea of what it was all about. I mean, it is called a "dual sport" how much fun can that be? In 2014, Jeff,  a riding buddy of mine, encouraged me to attend the Renfro Valley "Dual Sport" the next year. He'd told me all about his adventures on this ride and evidently, he hasn't missed one yet! Later on, I spoke with 2 or 3 other riders about it and they too had only great things to say.
With all these great recommendations, we just had to sign up. Jesse and I went and Travis tagged along on his DRZ400 (he did very well on it). You can read about the 2015 experience in this blog post. We had a great time and promised to return in 2016. It was on my calendar!
My pre-registration information came in the mail a few weeks ago and I immediately filled out the form and sent them a check for Day 1. It is a 2 day event but we only did the first day in 2015. My plan for 2016 was to sign up for one day and then go back on day 2 if I felt like it was doable. Physically, that is . . . I guess mentally too.
I started watching the weekend forecast everyday during the week leading up to the event. This was probably a bad idea. The forecast was horrible in terms of precipitation but OK in terms of temperature. Riding in the rain isn't miserable if it is warm enough. Also having the right gear makes it much more comfortable (another post on this is forthcoming).
On Friday, the forecast finally improved in that the rain was probably not going to start off until 11am or so. Hooray! Like Charlie said, "It is really easy to call it day when it is raining at the start." I pulled out my High Sierra Motorcycle Club jersey and took a picture, and sent it to a few folks. I was going regardless of the forecast! Ride or Die. No Snivelers.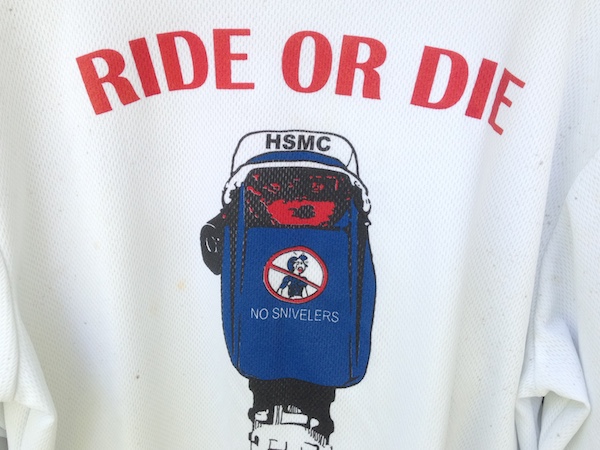 Several people I know had planned on coming to the event, but for one reason or another, all of them bailed. I knew Jeff would be there as would Charlie. Michael also indicated he'd be with Charlie's group and Travis was going to bring Taylor and ride along with a crew he'd been to Colorado with. Therefore, I had several options for "tagging along" with some fellow riders. Philip will regret not going but he had final exam stuff to prepare for this year.
I arrived around 7:55 am and found a good place to park the Sprinter. As I put it in park, I noticed an older model (pre-2007) coming down the road with "KTM" on the front above the windshield. It was a 3500 that was all blacked out. After unloading a couple things I headed over to the sign up. On the walk over I spotted a 2014 parked by Jeff and there were at least three more in the gravel lot at the sign up area. I don't remember seeing any there last year so that was pretty cool. The new thing? Maybe so, but none of their's were 4×4!
The sign-up line was short. The number of riders was down from last year. The forecast had kept them at home. It was a quick process as I had pre-registered for the event. I ran into several people I knew on the way back to gear up and finish unloading. All were more than gracious to offer to let me ride with their group. Appreciated!
Good to see Jeff G. as always. It had been exactly one year since I'd seen him. He was going to ride sweep with Harvey and Marty. I just couldn't handle being out that late on a rainy day. Many thanks to them for doing what they do!
In the end, the "Indy" group was my choice. It would be good to ride with both Charlie and Michael. I saw their group prepping to leave so I rode over there to wait. Didn't want to hold them up. There were a couple stragglers in the group so Charlie and another rider took off and waved for me to come along. The way it worked out, this was our group. Charlie, "Little Dave", and I were it. Just three of us, and I could tell within a few miles that we were evenly paced and moving along very well.
We stopped at the first marker for a "Hero Section" to take a break. As we sat there, 3 or 4 groups came by. They'd head down the road with the Green Arrow (Hero) and within 5-7 minutes they'b be back. Each group indicated that there weren't any markers. Someone had said that they'd taken them down because of all the rain. Up until this point, it had not rained. But, then it began, as a light downpour. With so many groups not finding the arrows ahead we just chose to take the main route. Onward!
Our little group made very good time and ended up being some of the very first people to make to the lunch stop. There couldn't have been a dozen other riders already eating at the Sandgap Community Park shelter house. A quick bite to eat, a trip to the restroom and back out on the loop. There were a couple of groups rolling into the parking area as we were leaving. And yes, it is still raining at this point.
Our first stop after lunch was about as far away from the staging area as we'd get all day. Yes, I've studied our tracks. There is a very large sandstone cliff overhang that the trail runs underneath. A perfect place to take a break on a rainy day! There is a small lake about 100′ straight down to the left of our bikes. Beautiful!
Moving on, we spent the next 15 miles or so on very old dirt roads, some gravel and about 4 miles of pavement. This lead us to our gas stop at the "Fill Ups" Gas Stop along US421. We had another reprieve from the rain under the awning as we gassed up and added some premix to our fuel tanks.
Charlie went in and asked for a trash bag. The clerk gave him one and he told him he'd use it as a raincoat. Some other riders were coming in the door as Charlie walked out and he told them, "The sales clerk is selling rain coats for one dollar!" Very good.
I had driven past this gas station many times on our way to Earl and Marcella's property where we used to host the "Big Hill" hare scrambles for the Kentucky Off Road Hare Scramble Series. My knowledge of this area was excellent. I knew from last year that we'd be riding on that property just up the road.
About 5 miles after leaving the gas station we were stopped at a Green Arrow at the very edge of the property. I knew exactly where we were. Cool! The neat thing was that not a single person had ridden this advanced section. All of the tracks, and there were very few, lead forward on the main loop. This was some of the best single track trail we road all day. It was slick, and one of the downhills was a bit hairy, but being the first to traverse it made it even better!
At one point during the "Big Hill" advanced loop it comes out and crosses the road but when we came back on the road we found the green arrow, but couldn't find the next turn. We rode around for 20 minutes trying to find some orange marker tape or another arrow. Finally, Little Dave found a piece of tape and we were back on course! Actually, we went back onto Earl's property and picked up some of the old hare scramble course and then made our way up a logging road and back to some pavement. Once again, this was all in the rain. Relentless.
The adventure continued as we made our way past the "Three Links" community marker and two miles down the road to a gravel farm road where a sign said "Welcome Riders".  We sure didn't expect to see that. About 3/4 mile down the gravel road we saw a sign that said, "Lemonade, Sweet Tea, Sodas, and Beer!" Really? Hmmm. Just around the bend in a yet to be completed pole barn sat a family selling exactly what they advertised. They invited us to pull our bikes under the barn and take a break. I wasn't interested in a beer at that time of day but the lemonade was sure good. There was a fire and everything. A good rest.
At this point, I had 86 miles on my odometer and Little Dave determined we had 20 or so to go based on the route sheet. The next few sections were getting really nasty. The dirt roads were essentially mud, the trails were slick and nasty with greasy roots and rocks, the gravel was heavy and wet, and of course the roads were slick if you pushed it with the knobbies on. Things were a bit more sketchy than earlier in the ride. Prudence was necessary.
We passed up the last "Green Arrow" section as they'd been told at the morning Rider's Meeting to not ride it if it had rained. Something about high water (Did you see the picture of Jeff at the top?). It didn't appear that anyone had gone that way and it looked like one bike was parked where the old gravel road started. I guess to turn people around?
The bad part about this whole ride to me is the first and last 6 miles or so of straight up pavement. The other paved sections are much shorter and those aren't too bad on the "WR" but those two extended sections of blacktop are tiring. I'm just not comfortable riding on the road. Never will be. However, I do realize that those road sections are what it takes to get you to the good riding!
When I pulled back into the staging area my odometer said 09.49 miles. That means "109.49" as my digital odometer has only two characters before the decimal point. I'd never seen it do that before!
I loaded up quickly, jumped out of my wet and thoroughly nasty gear, dried off a bit and got into something dry. Nice. I ran over to tell Charlie and Little Dave goodbye. Good to ride with good folks. Like Charlie said, "It's a small world!" They were staying for the next day. Adios! All I wanted to do was get home to take a shower and get a good beer. Back to the Sprinter and northward towards Osage Hill.
There is no doubt that I'll be back next year. This is now a "must do" on my event list and I will encourage others to join in. The folks that host the event do a good job. They are a bit "old school" in terms of trail marking, and this pisses off a lot riders, but I totally understand. I've laid out a 12 mile hare scramble course, put up 500 arrows and 1/4 mile of marking tape and still been criticized for bad course markings. I can't imagine marking 120 miles. Hats off to them for their efforts!
Don't forget to add the 2017 Renfro Valley Dual Sport to your riding calendar!
See you on the trail!