Now that we're done on course work for the year, we can concentrate on having a little fun. Clearing some trails, exploring new areas, and a trip to Red Bird are all in store this fall and winter. I try to get out every weekend regardless of the weather.
This year I'm packing my little Stihl on the YZ and it has come in handy several times. I cleared two sections on the Goat Trail and another large one across an old logging road below a ridge line trail. Having that little saw at-hand makes you re-think whether you can "get there" or not. Jesse hasn't even offered to carry the one in his backpack.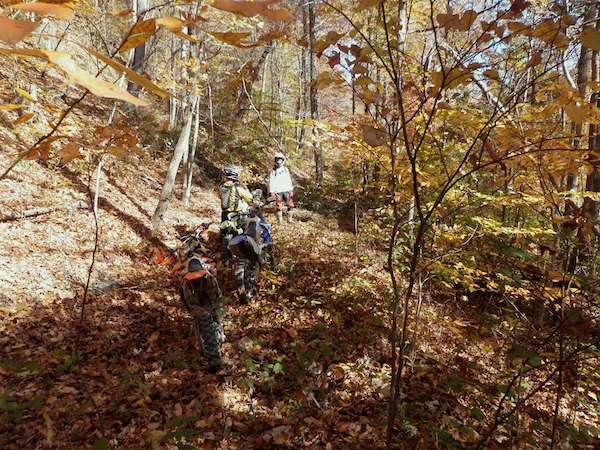 It's nice out this fall and everyone should get out and take advantage of it. I know it is slick, the leaves cover up all the stuff that will jerk you front wheel away, and the temperatures are getting colder but it is a great time of year to ride! It'll improve your skill level if you learn from your mistakes.
I heard recently that some of the last sections of Red Bird were not heavily used and it was hard to push your way through. If you got an early start, it would be possible to get around it all but getting through that last section when it is late isn't good. You're on the wrong side of the ridge and it gets dark over there a bit early. Need to go down there before the days get much shorter.
Get out and ride!
See you on the trail!