In the quest for the perfect tire that is suited for the varied terrain east of the Big River (Mississippi) I have now acquired a new Kenda Equilibrium. Actually, Jesse ordered two and I got one of his.
The version I have is  4.50″ x 18″ and my first impression was that it is super sticky and the knobs are very pliable. I'd have to say that it is not quite as soft feeling as the Michelin or IRC Trials Tires, but it is significantly softer than the Motoz Mountain Hybrid and the Pirelli MT-43. As for sidewalls, they appear to be thicker than the IRC and Michelin Trials Tires but not as robust as the Pirelli and Motoz which are both DOT-rated.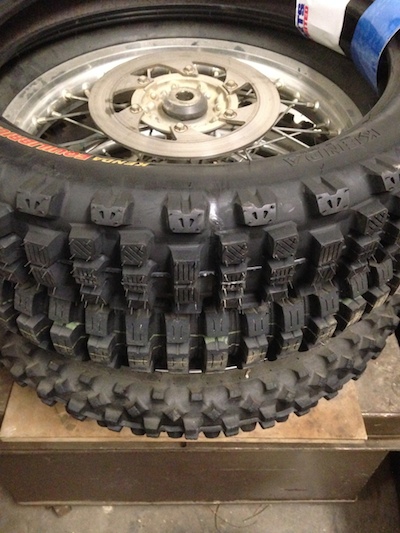 A positive point is that the Tire Balls worked VERY well in this tire. It is almost like it was made for them. The shape and size of the carcass is perfect for the balls I use. As usual, I lubed up the tire quite well and put some lube on each ball as I inserted it into the tire. The whole process went quickly and much to my delight, it was a breeze to mount. Just about as easy as mounting an 18″ Trials Tire.
It popped up on the rim with ease and the outline of each ball is visible along the sidewall. Pushing down on the knobs causes it to collapse like a trials tire and the 8 lbs. of air in the Tire Balls seems right on target.
Well I took it for a spin today and was very impressed. It does really well climbing over logs, crossing streams, traversing sidehills, and it seems to hook up quite well in the mud. What really surprised me is how it handled this long uphill that is covered with small loose rocks. The VE-33 does fine on it, but the Kenda Equilibrium rides on top of the loose rocks much like a trials tire. I did a lot of "exploring" today but the plan is to put some miles on it tomorrow.
I'll give it a thorough test tomorrow by hitting all our trails down in Casey County. Putting 20-25 miles on in the widely varying terrain should let me know what it is all about.
See you on the trail!